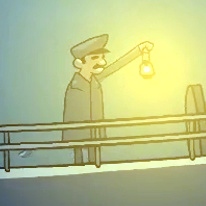 The Ferryman
15,644 Plays
How to play The Ferryman?
The Ferryman is a survival game.
Keep your flashlight on your chest, boy! These waters are not as calm as they seem.... As a ferryman, it's your duty to deliver goods and supplies to the people of the sea. It's not an easy job, but it must be done.
The Guardians are depending on you, so you'd better get on it. Remember that the farther you get from shore, the rougher the seas get.
Keep your engine fueled up. Repair holes in the hull of your boat. Listen carefully and above all, accept that you will not be alone.
Who created The Ferryman?
Code by Josh Edwards, art by Crelish and Worm, music by Holbinski.

Minitorneos, chat & make friends
🕹️ Which games are similar to The Ferryman?
❤️ Which are the latest Action Games similar to The Ferryman?
🔥 Which are the most played games like The Ferryman?