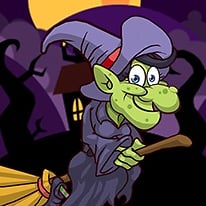 The Builder Halloween Castle
4,712 Plays
How to play The Builder Halloween Castle?
Are you ready to enjoy the most terrifying party of the year at The Builder Halloween Castle? All the ghosts and monsters of the underworld want to throw an amazing dance party, but they don't have a place big enough to do it!
It's time to help the flying witches build the world's tallest castle in one night! Stack and release the new blocks at the right time and place to make them fit together one after the other and get as high as you can. It sounds simple, but controlling a flying broom while laying a new plant on top of another is not a mission for just anyone - so be patient and get ready for the most terrifying fun of the year!