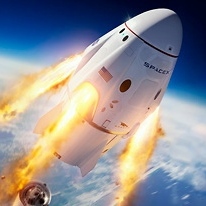 SpaceX: ISS Docking Simulator
10,246 Plays
How to play SpaceX: ISS Docking Simulator?
Your biggest dream since you were a child has been to become an astronaut and travel into space in a big spacecraft, so Spacex is your game! Enjoy this complex and hyper realistic flight simulator based on the original Software that Elon Mask created to train NASA astronauts in their journey to the International Space Station. Patiently familiarize yourself with each and every one of the real-world interface controls used by NASA astronauts to manually pilot the SpaceX Dragon 2 vehicle. Will you successfully dock your spacecraft by moving as smoothly as possible through space?
Features:

Enjoy incredible hyper-realistic graphics.
Put yourself in the skin of a professional NASA pilot.
Learn how to use the original software created by Elon Mask for astronauts.
Show your patience and your precision of movements.
Become a professional astronaut.
Who created the Spacex ISS Docking Simulator?
This incredible simulator has been developed entirely by Spacex.