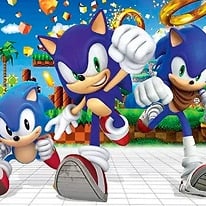 Sonic 1 Tag Team
70,348 Plays
Sonic 1 Tag Team details
Enjoy a new hack with our beloved blue hedgehog in Sonic 1 Tag Team in a different and special new feat! Explore every hidden corner of your precious world and enjoy sharing the stage with 4 other characters at once - you've read correctly! If you didn't have enough of one, now you'll have the chance to enjoy the skills and moves of 3 additional characters.
Jump around the stage in search of hundreds of golden rings and face all sorts of dangerous creatures ready to take your life away - restore the natural balance on your island and remember old times by playing this classic version of SEGA surrounded by new music, new designs, new skills and lots of new friends!
Features:
Enjoy a classic and exciting platform game.
Have fun playing with 4 other new players.
Jump around avoiding falling into sharp death traps.
Prevent Dr Eggman's evil plans from succeeding once again.
Enjoy improvements like new music, new skills and lots of new friends.
Who created Sonic 1 Tag Team?
This game has been developed by Jdpense.