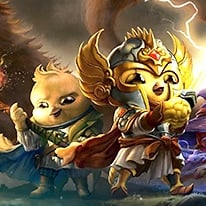 SolChicks NFT
-
15,051 Plays
How to play SolChicks NFT?
SolChicks is Solana's blockchain-based Play-To-Earn style NFT game ecosystem.
Users can collect their own NFT SolChicks, unique characters that are part of the same gaming metaverse.
Create your team of SolChicks and dive into PvP (player vs. player) combat and cooperative raids.
Play to win
The goal of SolChicks is to provide fun and rewards alike, paying the player for their time invested and engagement in the SolChick metaverse.
What are SolChicks?
SolChicks are the digital assets of the SolChick metaverse. They are NFTs in the form of adorable chick-shaped characters that players can randomly acquire that feature different levels of rarity.
The supply of SolChicks is limited to a total of 10,000 units in total and each SolChick will have a unique design and features. The rarity of each SolChick will have a direct impact on in-game statistics.
The different degrees of rarity of the SolChicks are:
Common: > 60% chance
Uncommon: < 40% chance
Rare: < 15% probability
Mythical: < 2% probability
Legendary: < 0.1% probability
In addition to their characteristics, SolChicks exhibit the following aesthetic variables, determining the visual appearance of their NFT cards:
Head
Eyes
Accessory
Clothing
Shoes
Background
What game modes does SolChicks offer?
SolChicks offers two main game modes, plus two SolChicks management tools to care for and level up your NFT characters.
The PvP or Player v Player mode offers the ability to test your SolChicks team against other players in lively real-time online strategic battles. The system will pair your SolChick with others of similar level to face them against another team of SolChicks, also with an even level.
Battles take place in pure MOBA style skirmishes where the most powerful team will emerge as the winner. Win the team battles, climb the online rankings and get the best rewards.
Raids represent the second major SolChicks game mode, missions suitable only for the most experienced players. Join other players of similar level and participate in cooperative battles and receive great rewards.
The management tools of your SolChicks will help to increase the bond with them and improve their stats for a faster leveling up. Play with them, feed them and take care of them; you will quickly see their stats and skills level up.
SolChicks Marketplace
There are many other activities to do with your SolChicks, from raising chicks to accumulating experience through farming and cultivation. Obtained items can be used in battle or sold in the SolChick market, increasing your wealth and stock.
On the other hand, you can also weave alliances with other players to gain extra experience, as well as acquire new and powerful weapons and armor and even buy your own land for breeding your SolChicks.
How to monetize in SolChicks?
To play and monetize in SolChicks you need to purchase the $CHICKS currency. To claim $CHICKS on the official game website you need to follow the steps below:
Create a Solflare wallet using your "secret wallet phrase".
Make sure you have at least 0,003 SOL in your wallet to access the first installment of $CHICKS.
Connect your Solflare wallet to the token claiming platform.
Claim your unlocked $CHICKS tokens.
Access the SolChick metaverse now and enjoy the most challenging fights and quests to earn great real rewards! Take care of your chick and turn it into a champion that will bring you income while you play.

Gameplays
There are no gameplays yet
Minitorneos, chat & make friends
🕹️ Which games are similar to SolChicks NFT?
❤️ Which are the latest Multiplayer Games similar to SolChicks NFT?
🔥 Which are the most played games like SolChicks NFT?