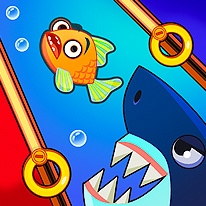 Save the Fish
30,434 Plays
How to play Save the Fish?
Save the Fish is a relaxing puzzle game in which you must do everything in your power to save the life of a little fish by refilling his tank with water before it's too late and he suffocates. You can't let his life be in danger!
Get ready to solve challenging and unique puzzles as you annihilate some dangerous opponents with your cunning. Simply remove the yellow pins in the right order to guide the water properly to its destination, while keeping your fish safe by avoiding lava and poisonous gases along the way and letting the water flow properly, and unlocking over 20 different characters! Squeeze your brain to the max and don't worry about time as you will have no limits.
Minitorneos, chat & make friends
🕹️ Which games are similar to Save the Fish?
❤️ Which are the latest Kids Games similar to Save the Fish?