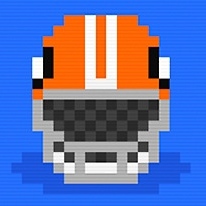 Retro Bowl
3,854,215 Plays
How to play Retro Bowl?
Make decisions on the field of play and get ready to enjoy a mind-blowing retro-style soccer game where you must lead your team to victory! Throw the ball as far as you can and run down the field at full speed avoiding the tackles of your tough opponents.
Retro Bowl is heavily influenced by the 8-bit soccer video game Tecmo Bowl, the last version of which was released at the end of 1991. In Retro Bowl you control the team's offense while acting as the team's general manager. The game uses simple mechanics that have been praised by players and critics alike.
How to play Retro Bowl?
It may seem complex in its first steps, but when you get used to its mechanics, it creates a lot of addiction. To manage the game it is very important to pass the tutorial. They will teach you how to kick the ball well to score or use gestures to devise the trajectory with which our teammate will be able to catch the ball and run away to score a touchdown. We will also learn how to make ribbons for those moments when the opponents throw at us. Win Retro Bowl and enjoy!
Where can I play Retro Bowl?
You can play from your PC browser, on Tablets, Smartphones (Android and iOS) and Nintendo Switch.
Who created Retro Bowl?
New Star Games has created this great American soccer game.
Minitorneos, chat & make friends
🕹️ Which games are similar to Retro Bowl?
❤️ Which are the latest Sport Games similar to Retro Bowl?
🔥 Which are the most played games like Retro Bowl?