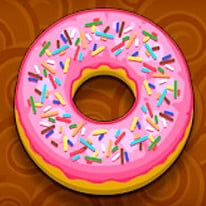 Papa's Donuteria
3,260,975 Plays
How to play Papa's Donuteria?
Start working at the amusement park doughnut shop and take care of the orders as best you can. Grow your business by cooking the best doughnuts with the right ingredients and get generous tips - make the customers happy!
How do I play Papa's Donuteria?
Papa's Donuteria is a video game that takes place in an amusement park. Different customers arrive at the amusement park and we have to take note of their donut orders. To do so, you will have to count on the dough, fry it and finish it off with the corresponding fillings, baths and toppings.
You can choose your character between Tony, Scooter or create it to your preference. You can create your own character with the characteristics you want, choose your name, your hair and facial features.
Stations and levels of Papa's Donuteria
Of course, the game starts to get harder as the days go by. On the first day you will learn how to take notes of the customers who arrive at the shop, then you will go to the "Dough Station", where you will be able to choose the dough and the shape of the doughnut.
The third phase is the "Fry station" where the doughnuts are fried and we must control that they do not burn and turn them to achieve their perfect cooking.
Finally, comes the most fun part, the assembly! In the "build station" you will find different materials to decorate and bathe them. You'll have to do exactly what the order says in order to earn points and more money at the end of the day.
Also, you will have to be on the lookout for new customers that arrive while you are setting up old orders, if you don't check this you will have an angry customer and he probably won't leave you a tip.
How to earn more items and money at Papa's donuteria?
As the days go by and you meet your goals, new flavors and toppings will be unlocked. Between days you can play a game to win more money, it consists of races and works as a bonus in the game.
Who created Papa's Donuteria?
Papa's Donuteria is made with Flash to work perfectly in most modern browsers. Papa's Donuteria is made by Flipline Studios. The first Papa Louie: When Pizzas Attack! game was released in the same year. In 2007, Flipline then made their first cooking game called Papa's Pizzeria. Now they have a site called Flipline Studios.com or Papalouie.com where they upload different versions.
Minitorneos, chat & make friends
🕹️ Which games are similar to Papa's Donuteria?
❤️ Which are the latest Kids Games similar to Papa's Donuteria?
📽️ Which are the most viewed videos and gameplays for Papa's Donuteria?