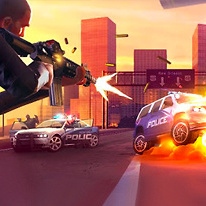 Mad Out: Los Angeles
7,242 Plays
Mad Out: Los Angeles details
Enjoy Mad Out: Los Angeles, an action, racing and destruction game inspired by the classic GTA. Your mission will take place through the streets of a huge city in an incredible open 3D world where you will have the possibility to drive, shoot and face waves of dangerous enemies willing to take your life.
It's time to show what you're made of and annihilate your opponents one by one until you take control of the city. Collect the weapons you find along the way and climb into the abandoned cars you find on the road to get around much faster. Have fun speeding and breaking the rules, running over pedestrians, mercilessly killing enemies and becoming the most feared man in the city of Los Angeles.
What are the highlights of Mad Out: Los Angeles?
Enjoy great 3D graphics and travel through an open world.
Take on all kinds of enemies.
Break the rules to seize power.
Shoot and run over anyone who gets in your way.
Prove that you are the most dangerous man in town
e

USE

AIM

SHOOT

MOVERTE/CONDUCIR

JUMP