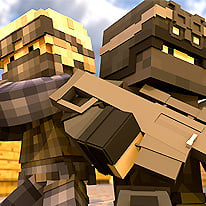 Krunker.io
-
1,976,013 Plays
How to play Krunker.io?
Enjoy Krunker.io Miniplay, the perfect blend of Counter Strike gameplay and the cool aesthetics of the famous Minecraft. You can relive the experience of the best FPS games (First Person Shooter), one of the most powerful genres in console and PC, but directly in your browser.
In Krunker.io you will be able to connect to online multiplayer games with players from all over the world and participate in dizzying skirmishes where the difficult thing will be to survive more than 30 seconds. Play different game modes where you will have to earn points by finishing off the entire opposing team until the end of the game, or sow chaos in the classic All Against All.
Do you want your character to be as unique as you are? You can customize your character's appearance, class, weapon sights, and more. No two will be the same.
Unlock all the weapons in the different categories. Choose from assault rifle, sniper rifle, submachine gun or knife depending on the gameplay that best suits your skills, but you'll have to master them all to be number one in the rankings!

Is Krunker the best browser FPS?
Krunker.io was created by Swiss programmer Sidney De Vries for Yendis Entertainment. After the publication of its BETA version in 2018, it was officially released in January 2019. Thanks to its gameplay and its Minecraft-based pixel aesthetic, it has been gaining popularity ever since and is one of the most played Twitches in its category. The website ScienceFiction.com named it the best .IO game of 2019 and the best adaptation of a browser FPS. Highlighting its easy-to-render graphics, and compatibility with any computer, and its replayability, thanks to the complexity of its scenarios and the different classes of the character.
Are you ready to play? Reload your weapon, sharpen your aim and be happy if you survive for a long time!