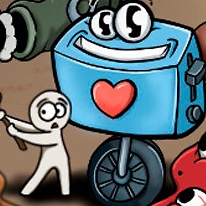 Kill Boi 9000
9,206 Plays
How to play Kill Boi 9000?
Defend yourself from a horde of huge killer monsters full of oversized eyes as you control your own toaster-like combat robot in the game Kill Boi 9000! Choose from a wide variety of weapons of all kinds and combine them to make them even bigger and ridiculously powerful! Are you ready for a good time?
You'll be able to do anything you set your mind to, even shoot cannonballs on fire - anything goes in this great adventure! And the craziest and most terrifying attacks are in the hands of your imagination. As the game progresses, the battlefield will become more and more crowded and turn into a real nightmare. Be brave and show your incredible wit and fabulous reflexes while, thanks to good teamwork, you manage to win the final victory! Don't leave a single monster standing and have a great time...
Who created Kill Boi 9000?
This mod has been developed by PlayWithFurcifer.

MOVER JUGADOR 1

MOVER JUGADOR 2

SELECT
Minitorneos, chat & make friends
🕹️ Which games are similar to Kill Boi 9000?
❤️ Which are the latest 2 Players Games similar to Kill Boi 9000?
🔥 Which are the most played games like Kill Boi 9000?