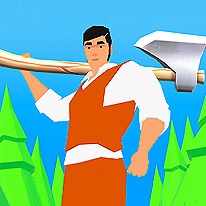 Idle Lumberjack 3D
4,993 Plays
How to play Idle Lumberjack 3D?
Get ready to test your lumberjack skills in Idle LumberJack 3D! Go deep into the dense forest and cut down dozens of trees to sell and buy all sorts of upgrades. Each tree will have different properties that you will benefit from as you go along.
You will also be able to cut down some magical golden trees that contain all kinds of bonuses that will make your task easier... Don't forget to come back to town once in a while to sell the wood and increase your profits - wield your sharp axe with all your might and have a great time!