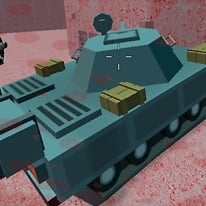 Helicopter and Tank Battle: Desert Storm
-
16,951 Plays
How to play Helicopter and Tank Battle: Desert Storm?
Welcome to Helicopter And Tank Battle Desert Storm Multiplayer! An exciting and unique FPS multiplayer game where you will have to go into the battlefield with your brave soldier while facing all kinds of armed enemies, tanks and helicopters ready to take your life. Experience incredible and realistic explosions and fire powerful rockets and bullets without control directly at your opponents to see them explode into pieces. You'll also have to control the airspace as some enemy helicopters will be watching and firing from the air. Buy new vehicles with the money and experience points you get from killing some opponents and try to survive on the most dangerous battlefield you've ever seen. Good luck soldier!
Characteristics:
FPS multiplayer game in which you will face people from all over the world.
Buy tanks and helicopters
Choose your favorite weapon for hand-to-hand combat.
Become the last survivor by protecting your life at all costs.
MOVE

RUN

e

COMPRAR

1

-

6

CAMBIO DE ARMA

AIM

SHOOT

JUMP