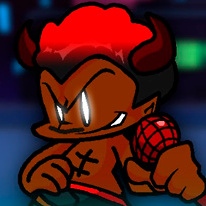 Friday Night Funkin' vs LNX
96,426 Plays
How to play Friday Night Funkin' vs LNX?
Music is your passion and you can't live without feeling the beat on your skin for a single day? Prove it with Friday Night Funkin' vs LNX in a new mod full of emotions where you will have to test once again your reflexes and your great sense of rhythm if you want to keep your relationship safe.
This time, the father of your beloved girlfriend hires the dangerous Lil Nas X to take your life and destroy you mercilessly in a tough confrontation. Lil Nas X accepts the offer thanks to a generous bribe, but after discovering the full story and seeing the hard times Boyfriend is going through, he decides to forgive him, but not before showing his adversary what he can do with a microphone in his hand! This fun mod goes beyond week 3 and as always it's packed with awesome music tracks, action packed action and all sorts of new challenges - can you hit the musical notes to the rhythm of the arrows that appear across the screen without missing a beat?
Who created Friday Night Funkin' vs LNX?
This game was developed by Maymays4days.