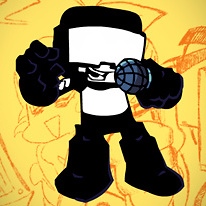 Friday Night Funkin' Tankman Mashup
117,897 Plays
How to play Friday Night Funkin' Tankman Mashup?
Have a blast with Friday Night Funkin' Tankman Mashup in this unique mod packed with upgrades, new songs, and new backgrounds that will be implemented throughout week 7! Can you survive tough musical showdowns thanks to your gift?
An exciting new adventure awaits as you delight the world with your amazing musical talent! Feel the melody on your skin and rekindle the flame of love as you face off against the dangerous Tankman, a well-protected and uniformed monochromatic soldier from a post-apocalyptic desert-like hellhole who holds a microphone in his hand while clutching the other hand with all his might. He's set to become your worst nightmare! Will you let him overcome you by taking your girlfriend and your place as king of rhythm?
Who created Friday Night Funkin' Tankman Mashup?

This mod was developed by Stupid Shit Fart.