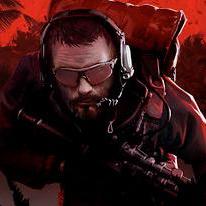 CS GO: Counter Strike - Global Offensive
-
787,404 Plays
CS GO: Counter Strike - Global Offensive details
Enjoy this online version that we propose to you so that you can have again the practice that you had when you played the Counter Strike. CS GO significantly expands the team gameplay that was pioneered at its launch 12 years ago.
Counter-Strike: Global Offensive (CS: GO) includes new maps, characters and weapons and will offer updated versions of classic CS content (de_dust, etc.). In
addition, CS GO introduces new game modes, matchmaking, scoring and more.
In this release, the developers had planned to collect the best of Counter-Strike 1.6 & the best of Counter-Strike: Source, which is available on
Steam
where you can download it for a small fee. CS GO is extremely competitive, where you can find out how good you are. Not recommended for casual gamers.
MOVE

AIM

SHOOT

JUMP

r

RELOAD

c

CAMERA

y

CHAT

m

EQUIPMENT

1

-

5

ARMAS