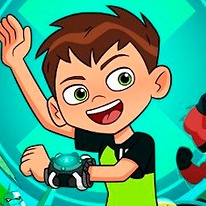 Ben10 Omnirush
13,975 Plays
How to play Ben10 Omnirush?
Have fun in Ben 10 Omnirush with a spectacular action-adventure-racing game full of excitement! Join our friend Ben once again to complete a new mission to save the world. Run at full speed and without looking back while you avoid dangerous obstacles and jump over some platforms trying to accumulate the maximum score possible.
The objective of this game is to complete each level arriving at the goal safely and with the only goal of reaching your destination as soon as possible in order to save the world from dangerous aliens, monsters or robots willing to sow chaos. Will you manage to find the solution to all the problems that besiege the world? Good luck...