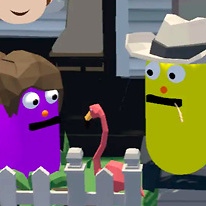 The Untitled Happiness Project
2,070 Plays
How to play The Untitled Happiness Project?
Are you ready to take on a unique mission in The Untitled Happiness Project? As an employee of the Happiness Corporation, you are sent to the city of Phaseolus to try to make two of its inhabitants, Jonathan Perry and Rachel Portland, happy again.
They're going through a rough patch in their lives and only you have the chance to put a smile back on their faces. Follow them through their daily routine, explore the town and talk to the residents to get information that will help you solve their case and make them happy again. Have a great time!
Who created The Untitled Happiness Project?
This game is developed by Gametoria.

MOVE

f

DIALOGAR

AIM

SHOOT