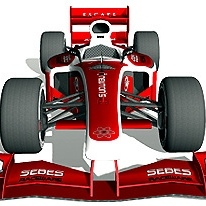 Team Order: Racing Manager
51,797 Plays
How to play Team Order: Racing Manager?
Are you ready to run your own Formula One racing team? Team Order: Racing Manager brings you the excitement of running your own racing team. Make split-second decisions as your F1 team manager and experience the real thing of being a team manager - fight for the number one spot!

Develop the shape of the F1 car, choose new drivers and directors to hire, it's all part of your daily work, which makes this simulation game so exciting. On race day you must be prepared to make the most difficult decisions such as: when to make the pit stop, which tyre is the best, when the drivers need to push or take it easy...Choose even more risky options such as defensive blocking or all dangerous offensive driving styles. When will you play it safe, or when will you take a calculated risk? It's your decision with all the consequences that come with it. Your racing team is counting on you!

Team Order: Racing Manager is the perfect blend of management game, sports racing and strategy, backed by a detailed 3D racing experience that will give you all the excitement of a real Formula 1 racing day.