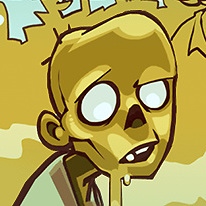 Stupid Zombies
13,662 Plays
How to play Stupid Zombies?
A man, a shotgun and a bunch of zombies. You're humanity's last hope, and it's your job to keep them in line. Adjust your shots and angles, and watch your bullets bounce from wall to wall, elegantly cutting off the arms and limbs of each zombie.
Stupid Zombies features:
4 giant stages with over 360 challenging levels.
Exciting zombie theme.
Simple and innovative gameplay based on bouncing
Defeat stupid zombies with brains and ingenuity.
Realistic physics.
Great zombie soundtrack.