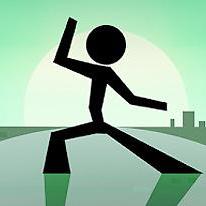 Stick Fight
1,209,682 Plays
How to play Stick Fight?
Are you ready for action? Put yourself in the shoes of a Sitckman and get ready to fight waves of enemies by using all your senses and especially your reflexes! Buy different weapons with the money you get and survive the massive attack of dangerous enemies.
How to fight in Stick Fight?
Stick Fight is an action game where you will have to fight against four players overcoming obstacles and different levels.
The character is a stick figure and is based precisely on sticky fighting. Stick fighting is a variety of martial arts that use different models of "sticks": simple, long, thin, blunt, hand, usually wooden to attack the opponent. Some techniques can also be used with a strong umbrella or even a sword in its sheath.
Stick Fight stands out by its retro aesthetics and these graphics were the ones that have had greater acceptance within the gamer public. The stick figures are represented by a colored marker. Although they are simple graphics, during the fight, you can hit with your fists using special combos and weapons.
If you have a LAN connection or a split screen system, you can play Sticky Fight with other internet players. The game has more than 80 different levels and you can also edit them thanks to the more than 35,000 player cards in the Steam Workshop.
How to play multiplayer in Stick Fight?
Unfortunately it is not available for local multiplayer by keyboard at the moment, but this functionality is being worked on.
Who created Sticky Fight?
Sticky Fight was developed by Landfall Games AB, a Swedish company founded in 2015 by Wilhelm Nylund. This young developer was nominated at a young age for the development of his first games and decided not to go to university and to dedicate himself fully to the industry.
They soon developed Clustertruck, which was a real success that made the expansion of the young company possible. Years later, Stick Fight would arrive, affirming the success of the company again.