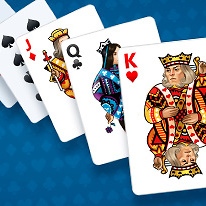 Solitaire: Klondike Spider Freecell
2,002 Plays
How to play Solitaire: Klondike Spider Freecell?
It's time to relax in style after a long and tiring day at work with Solitaire: Klondike Spider Freecell! Are you a lover of solitaire games? Do you consider yourself a smart person capable of solving the most complex challenges?

Face fun challenges playing 3 different types of solitaire; Klondike, Spider, Freecell. Look at all the cards carefully, find a way to arrange them correctly in ascending or descending order by shapes to complete sequences and successfully solve each game. Good luck!