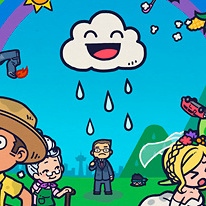 Rain on Your Parade: Prologue
1,801 Plays
How to play Rain on Your Parade: Prologue?
Rain on Your Parade: Prologue is a fun adventure game with a curious 3D aesthetic where you will have the opportunity to manage a mischievous cloud ready to ruin the day of everyone who crosses your path. Will you be able to devastate everything in your path?
Run through a multitude of special levels as you invent new ways to wreak havoc and mayhem on the populace. Put out fires, ruin a beautiful wedding, unleash your fury in the form of lightning and thunder, destroy farmers' crops, and even go back in time to hurl meteorites at dinosaurs. Unlock new destructive abilities as the game progresses in increasingly bizarre ways, and travel the world across 40 unique levels.
Who created Rain on Your Parade: Prologue?
This game was developed by Unbound Creations.