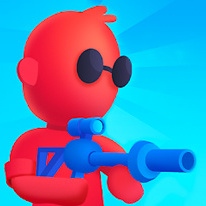 Perfect Snipe
42,597 Plays
How to play Perfect Snipe?
Are you ready to put your sniper skills to the test? Enjoy an exciting shooting game with Perfect Snipe in which you must annihilate the targets of each level with the help of a powerful rifle.
There are a total of 22 different levels to complete thanks to your amazing aim and lots of new weapons to unlock thanks to the points you get with each completed mission. Set your target and try to shoot at the right time to annihilate your opponents!