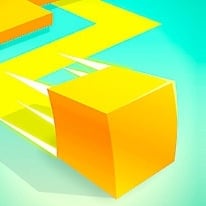 Paper.io
-
1,773,852 Plays
How to play Paper.io?
Take over as much territory as you can! It looks easy, since the controls are, but stay alert -- there are too many players and too little land! Be smarter than them and find a way to become a conqueror. Beware of your weak point, your tail -- if an enemy touches it, it's game over!
How to play Paper.IO?
In Paper.IO you will have to compete with other players in a circular arena to try to conquer as much land as possible. You will take on the role of a square character that you can control with your computer mouse. This character will leave a trail that will mark the limits of the new territory that you are going to conquer. When you draw a shape with this trail and close it, you will add this new fragment to your territory. Be careful, you will come across other players eager to expand their own territory. In order to get rid of them you will have to try to cut their trails when they are trying to conquer more land. Try to survive the attacks of the opposing players and conquer as much land as you can and you will reach the top of the server ranking.
Need some tips on how to get better at Paper.IO?
The key to the game is to choose the right moment to make your moves. You need to conquer as much territory as possible, but don't try to take on too much. Play it safe and add ground little by little. The less you expose yourself to your enemies, the less chance you have of being eliminated. Don't underestimate any player, no matter how small, they can all take you down at any time.
Who developed Paper.IO?
Paper.IO was developed in 2018 by Voodoo Games and a year later it was updated with the sequel . Since the emergence of .IO games, numerous games of this genre have been published, but Paper.IO has managed to carve a niche for itself and has gained a lot of popularity since its release.
Minitorneos, chat & make friends
🕹️ Which games are similar to Paper.io?
❤️ Which are the latest Multiplayer Games similar to Paper.io?
📽️ Which are the most viewed videos and gameplays for Paper.io?