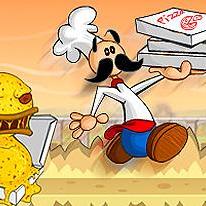 Papa Louie
1,681,146 Plays
How to play Papa Louie?
If you are looking for a fun and addictive way to spend your time, the game Papa Louie is an excellent option. It will take you through various levels in a kitchen, where you have to take control of the chef, called Papa Louie, who will guide you through the preparation of different dishes.
Papa Louie is a series of children's games that combine the excitement of platform games with culinary creativity. From making giant hamburgers to creating delicious ice cream, you'll have a blast playing this game. But how do you play? Well, first you must select a character and start exploring the world. As you advance, you'll be able to unlock new characters and tools to use in the kitchen. Then, you will have to prepare meals for the customers that visit your restaurant. If you do it well, you'll earn money and increase your reputation. As you advance through the levels, it gets harder and you have to deal with a lot of obstacles. Are you ready to cook and have fun at the same time, then give Papa Louie a try today!
What are your favorite Papa Louie games in 2023?
If you're a Papa Louie fan, you've probably already enjoyed his exciting games for hours. But what are the most played papa louie restaurant games this year. Among the kids' favorites are Papa's Freezeria, where you are the owner of an ice cream shop and you have to satisfy your demanding customers; Papa's Burgeria, where you have to make the best burgers in town; Papa's Pancakeria, where you will have to prepare delicious pancakes for your customers. Besides, we cannot forget other popular games such as Papa's Pizzeria and Papa's Donuteria. Get ready to have a lot of fun with Papa Louie and his exciting games.

Who invented Papa Louie or what is the origin of this game?
This fun game got its start in the creative mind of game developer Flipline Studios. In 2006, they created the game "Papa's Pizzeria", but it wasn't until 2007 that they made a spin-off with the character Papa Louie. From there, it was only a matter of time before Papa Louie became an online sensation with several sequels and different restaurant versions. Now you know a little more about the origin of this iconic game that has survived over time, it's time to get playing!

MOVE

JUMP

z

PUNCH

x

BOMBA DE PIMIENTA
Minitorneos, chat & make friends
🕹️ Which games are similar to Papa Louie?
❤️ Which are the latest Kids Games similar to Papa Louie?
📽️ Which are the most viewed videos and gameplays for Papa Louie?