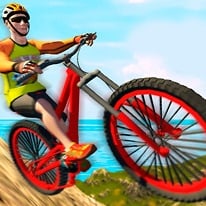 MX Offroad Mountain Bike
17,327 Plays
How to play MX Offroad Mountain Bike?
Get ready for a mind-blowing extreme downhill mountain biking experience with MX Offroad Mountain Bike! Get on your amazing bike and get ready to ride through a rugged terrain full of obstacles, trees, ramps, cliffs and lots of fog. Can you make it to the finish line safely?
Reach all checkpoints to complete levels and beat a total of 15 unique maps with different challenges. You'll also have the opportunity to test up to 4 different bike models and unlock new items such as chains, clothes or helmets to protect your life in dangerous situations. Enjoy amazing realism, experience mind-blowing physics and prove you're the best mountain bike rider in the world!