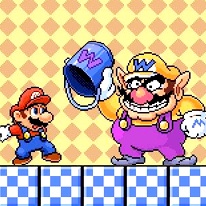 Mario & Wario Controller Hack
20,058 Plays
How to play Mario & Wario Controller Hack?
Mario and Wario Controller Hack is a mind blowing modification of one of the most fun Mario games out there! Are you ready for some fun? During the game, the evil Wario has covered Mario, Luigi and Princess Peach's heads with various objects that prevent them from seeing the way easily, it's time to put your wits to the test and paint a safe path to guide all the characters safely to the end of each level!
Protect the lives of your friends with the help of a little fairy named Wanda, damage some opponents with your enormous power and try to get your friends to the finish line without falling into the void. Only one of our favorite characters will be able to remove the object from our friends' heads that prevents them from seeing normally. Please note that the speed of movement will vary depending on the character you play, so you'll have to duel with the evil Wario to get your friends to safety once and for all at the end of each level! Good luck to you...
MOVE

s

CONSTRUIR/DESTRUIR