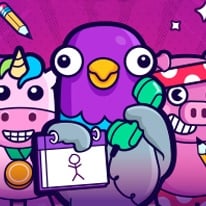 Gartic Phone
-
14,573 Plays
How to play Gartic Phone?
Enjoy a curious online version of the famous and classic game of "escacharrado phone" or also called "teléfono descompuesto" in Latin America with the fun multiplayer game Gartic phone! What does this new game consist of?
This time, instead of just transmitting a phrase from one person to another, a new component will be added to the game, a drawing! Players will have to write the initial phrase, whatever comes to mind, and then the fun begins. All the sentences written by the players will be shown to the other player so that he/she can draw it as best as possible. This new drawing, which probably already distorts the original sentence, will be shown to a new player and so on until the last player who will be in charge of ending the round. All the players will see the results of the different chains and how they have been degenerating between the different steps with the intention of laughing out loud. Just let yourself go and live a hilarious experience!
Minitorneos, chat & make friends
🕹️ Which games are similar to Gartic Phone?
❤️ Which are the latest Kids Games similar to Gartic Phone?
📽️ Which are the most viewed videos and gameplays for Gartic Phone?