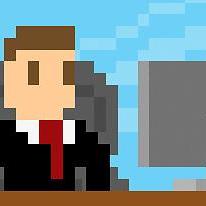 Corporate Climber
320,710 Plays

R.I.P Flash! Corporate Climber is a Flash game which is not supported anymore. Please check our similar games!
How to play Corporate Climber?
Make your way to the very top of the corporate ladder, jumping, dodging and stomping your way past surly co-workers, performing the type of menial tasks that will soon be beneath you. When you get to the top floor, take a moment and breathe a sigh of relief, because there's only one way left to go...down. All the way down. Then it's a matter of brushing yourself back off and doing it again or descending to become the boss of different kind of corporation.
Minitorneos, chat & make friends
🕹️ Which games are similar to Corporate Climber?
❤️ Which are the latest Action Games similar to Corporate Climber?
🔥 Which are the most played games like Corporate Climber?