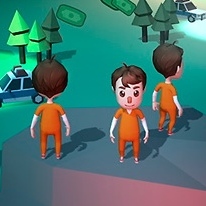 Cartoon Escape Prison
5,164 Plays
Cartoon Escape Prison details
You're locked up under heavy guard in a maximum security prison! Will you find the easiest way to escape without getting caught? Develop a detailed plan and prepare to escape the light of the guards' flashlights. Draw the best escape route and get to the right spot at each level safely. Watch every obstacle, every fence, every infrared pole and every security camera carefully to avoid getting electrocuted and being taken back to your little cell by the guards. Every time you fail, you must choose to design a new escape plan - don't give up, move carefully and make it to the exit!
What kind of features can you find in Cartoon Escape Prison?
Enjoy highly accurate 3D graphics.
Surround yourself with all sorts of details, and obstacles to avoid.
Squeeze your brain to find the best way to get through the levels.
Draw the escape plan so that the prisoner gets the go-ahead.
Avoid going back to your cell once more.