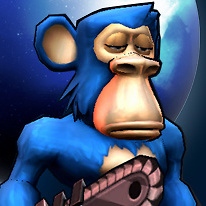 Cantina Royale
60,159 Plays
How to play Cantina Royale?
Cantina Royale is a Play-To-Earn action shooter game with 3D characters as NFT.
It is the first Battle Royale game with PvP and PvE game modes set in outer space with its own Metaverse, the so-called Cantina Metaverse.
The Metaverse of Cantina Royale brings together the underworld of the galaxy, where each character seeks honor and glory through the most exciting and frenetic combat.
Choose your unique NFT character and participate in Battle Royale battles to win great rewards.
What types of characters does Cantina Royale offer?
Cantina Royale features all kinds of characters from all over the galaxy, countless alien species representing the most peculiar and bizarre life forms. Each character is unique in the Cantina Royale Metaverse thanks to its NFT status.
All species are fully playable and are able to fight, raid and battle their way to success. Achieve the best rewards by achieving victories in the different game modes of Cantina Royale.
The first playable characters in Cantina Royale belong to the galactic ape species and are inspired by Board Apes Yacht Club. Choose your character and embark on the Cantina Royale Battle Royale adventure.
New collections inspired by famous icons such as NFT are coming soon.
What are the characteristics of the Cantina Royale characters?
The NFT characters in Cantina Royale are fully functional 3D figures. In combat they offer the player great possibilities in terms of gameplay, with actions such as mobility and twin stick shooting, real-time weapon switching, the ability to roll on the ground as a dodge and more. All this with a speed of movement that allows the most advanced players to exploit their full potential.
What game modes does Cantina Royale offer?
Cantina Royale offers its players two main game modes: PvE and PvP.
In the PvE game mode you will be able to cooperate with other players to loot dungeons in search of great rewards. You will have to defeat AI-controlled enemies to get the ultimate prize of the arena and share it with your battle buddies. Overcome the defense systems and take the victory in the most dangerous and challenging raids.
In the PvP or player vs. player game mode you will participate in a real time battle against other players in which only one player can be left standing to claim the grand final reward. Fight against 15 other players online in battles to the death and hold out until the end to increase your personal stash - there can only be one left!
How does the Cantina Royale Scholarship Program work?
The Cantina Royale scholarship program allows players to rent out their owned NFT characters to other players so they can play and split the rewards between them. Thus, players who want to play Cantina Royale for free will be able to do it through the rented NFTs of other players.
In addition, and thanks to the Cantina Royale Marketplace, players will be able to exchange NFT characters to increase their earnings.
Join the Cantina Royale Metaverse now, choose your NFT character and start generating profits with your hours of play and your victories in combat. Get great rewards in PvE and PvP modes, in addition to the possibilities offered by the scholarship system and the NFT's own exchange and management Marketplace.

Gameplays
There are no gameplays yet
Minitorneos, chat & make friends
🕹️ Which games are similar to Cantina Royale?
❤️ Which are the latest Action Games similar to Cantina Royale?
🔥 Which are the most played games like Cantina Royale?