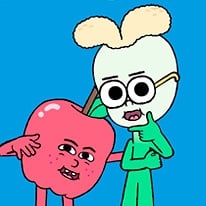 Apple and Onion Beats Battle
3,814 Plays
How to play Apple and Onion Beats Battle?
Apple and Onion: Beats Battle is a fun game of skill and rhythm inspired by the animated TV series Apple and Onion! Choose one of the two main characters to start playing and take part in dance battles by moving to the music.
It sounds simple, but every move will have to be precise and you'll have to make it at the right time or you'll lose the battle! Watch the direction of the arrows that appear at the top of the screen and don't skip a single move - show the world who is the master of the dance floor and have a great time!