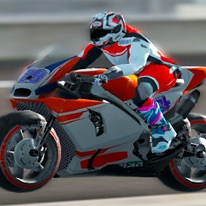 Super Bike the Champion
32,561 Plays
How to play Super Bike the Champion?
Enjoy an incredible motorcycle racing game at breakneck speeds and amazing 3D graphics with Super Bike The Champion! Take on the role of a professional biker and ride through circuits full of enemies, obstacles and dangerous turns, and get to the top?
The game's delicate physics will test your balance and driving precision - just concentrate and prove you're the best driver of all time! Will you avoid crashing or going off the track at all times? Have fun...