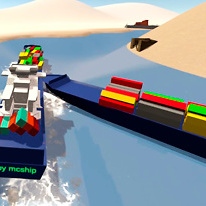 Suez Canal Training Simulator
1,098 Plays
How to play Suez Canal Training Simulator?
Test your skills as a ship captain and learn how to steer a huge cargo ship loaded with thousands of containers through the challenging Suez Canal in Totally Accurate Suez Canal Training Simulator! Are you ready for a good time?

Navigate through the narrowest and shallowest part of the famous Suez Canal while avoiding losing your balance, capsizing your vessel or getting stuck for days blocking the way of other cargo ships that want to reach their destinations as fast as possible. Keep in mind the laws of physics, and handle with caution that huge and heavy ship to prevent the Ever Given freighter disaster from happening again and completely collapse the world economy and trade. Prove that only a good captain like you is able to complete this difficult mission and arrive safe and in one piece to its destination!