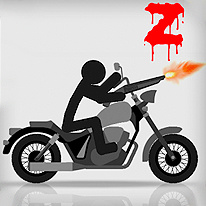 Stickman Zombie Annihilation
9,371 Plays
How to play Stickman Zombie Annihilation?
A terrifying zombie invasion has come to the city in search of blood and violence. Get ready to enjoy Stickman Zombie Annihilation, a game of vehicle driving and destruction in which you'll have to help our protagonist to mercilessly annihilate all the zombies that roam the city!
Invest the money you earn from each race in upgrading your vehicle's capabilities or buying new ones, and make it across the finish line before your opponents finish you off. New weapons, stronger tyres, a good engine and a good accelerator will be all you need to win the final victory - good luck!
Who created Stickman Zombie Annihilation?
This game was developed by Sergey Mezhakov.