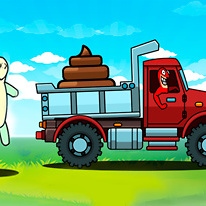 Poopieman Voodoo
2,195 Plays
How to play Poopieman Voodoo?
Have fun in Poopieman Voodoo with a scatological game in which you have to throw lots of smelly poops at the voodoo doll hanging from a rope! Yes, you read that right. It's time to attack with all your might and help Poopieman accomplish his mission.
Practice more than 10 different and very original throws in which you'll do whatever it takes to completely prick the rag doll. Will you have the necessary skills to attack without dying of laughter with this hilarious game?