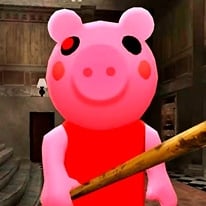 Piggy Escape from Pig
173,066 Plays
How to play Piggy Escape from Pig?
Are you a fan of scary stories? Enter a terrifying mansion full of dangers in Piggy Escape From Pig and enjoy a sinister experience! An evil pig armed with a baseball bat and thirsty for human blood has locked you in his house and has no intention of letting you escape alive - take heart and explore this dark and sinister environment filled with rooms!
To survive, you'll have to solve all kinds of puzzles and face unique secrets to find the key that will allow you to open the front door! Will you manage to escape while avoiding death at the hands of the most ruthless murdering pig in the world? Your enemy will not rest until he kills you! Escape from this creepy house before it's too late and enjoy the adrenaline rush.
What features stand out in Piggi Escape From Pig?
Incredible and realistic 3D graphics.
Dive into a terrifying adventure full of traps and dark corners.
Carefully explore every corner of this dark environment.
He's trying to survive a terrible death at the hands of a murdering pig.
MOVE

e

ACCIÓN

RUN

ROTAR

SELECT