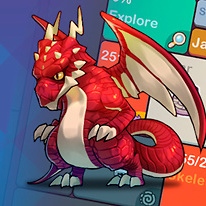 Minimal Dungeon RPG
20,566 Plays
How to play Minimal Dungeon RPG?
Minimal Dungeon RPG is an innovative role-playing game in which you must explore an infinite number of dungeons connected through endless corridors while facing dangerous creatures and obtaining all kinds of rewards.
Each enemy and each mission are found inside those small boxes that represent the different hidden rooms and you will have to be extremely brave and observant and go through them without fear in order to complete a story full of traps and mysteries, patiently trace all the corners of the game and have a great time!
What are the features of Minimal Dungeon RPG?
Classic dungeon mode, explore layers of mysteries
Upgrade for extreme speed
Powerful costume and rare equipment that makes you invincible
Free bonus points, be the strongest one
Engaging storyline, numerous monsters waiting for you to challenge them
Who created Minimal Dungeon RPG?
CapPlay has created this amazing RPG adventure game.
Minitorneos, chat & make friends
🕹️ Which games are similar to Minimal Dungeon RPG?
❤️ Which are the latest Adventure Games similar to Minimal Dungeon RPG?
🔥 Which are the most played games like Minimal Dungeon RPG?