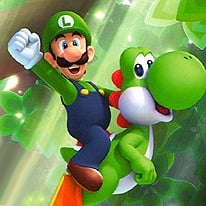 Luigi's Adventure
22,279 Plays
How to play Luigi's Adventure?
Enter a fearless and exciting new classic adventure with Luigi's Adventure! Accompany our beloved Luigi to Princess Peach's castle, where he will have to join her and his beloved brother Mario. Suddenly on the way, Luigi notices Bowser in the distance, accompanied by hundreds of Koopas, Goombas, and other enemies ready to wreak havoc on the kingdom, so you must warn them before it's too late!
Make it to the castle in time as you face off against dangerous adversaries ready to take your life. Protect your back, jump from one side to the other while catching lots of gold coins and survive this terrible adventure full of dangers only thanks to your cunning and good reflexes, don't give up against the obstacles on the way and save the whole kingdom before it's too late!