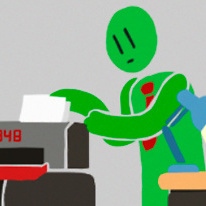 George and the Printer
7,458 Plays
How to play George and the Printer?
George and the Printer is a fun puzzle game in which you will have to test your wits to help George repair the broken printer in the office - apparently the printer is haunted and could even be fatal!
He keeps throwing paper sheets and paper planes at full speed that are very hard to avoid and that will drive you crazy. Observe your surroundings and pay attention to every detail, call your boss, the technical service and why not, your mother. Anything is better than standing still! Will you manage to find the solution to return to work normally?
Who created George and The Printer?
This game was developed by Eloise Zirotti and Robin Six.