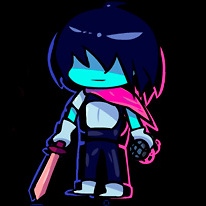 Friday Night Funkin' vs Kris
29,044 Plays
How to play Friday Night Funkin' vs Kris?
A new mod comes to minigames full of excitement, unique characters and a whole lot of rhythm with Friday Night Funkin' vs Kris? Are you ready once again to take on dozens of clashes to test your musical sensibilities and mastery of stage fright?
You've faced all kinds of tough guys in all your battles armed with all kinds of firearms, but now it's your turn to fight a guy armed with a sharp sword. In this new madness, you'll have the chance to enjoy new characters, new songs full of rhythm and as always you'll be lucky enough to live your passion and feel the adrenaline in your skin as you fight to prove your talent in front of the watchful eyes of your beloved. Good luck!
Who created Friday Night Funkin' vs Kris?
This mod was developed by CallMeKaaze, Dwinchi, RenxTheHedgehog, Toby Fox and Poporaaki.