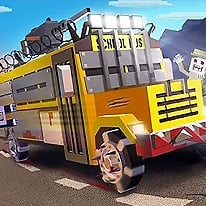 Zombie Derby Pixel Survival
14,151 Plays
How to play Zombie Derby Pixel Survival?
Enjoy with Zombie Derby: Pixel Survival an action and car game that combines zombie driving and the thrill of destruction. A zombie invasion has wreaked havoc on the world, 1,600 days later you are still travelling the world in search of survivors. But it seems that human life has almost been extinguished - it's time to take heart and annihilate this terrible plague!
Get in your car and prepare to clear your path of debris and enemies! Pay attention to your car's fuel level to avoid getting stranded in the middle of an important mission and unlock new upgrades with every hit to get you through each level with all your energy and 3 stars.
What features stand out in Zombie Derby Pixel Survival?
Control powerful 3D vehicles, enjoy incredible graphics and amazing physics.
Hit all the zombies on the road while getting your score up.
Avoid too much damage or your car will be blown up.
Buy improvements with the money you get.
Pay attention to the fuel level so you don't leave your mission halfway done.