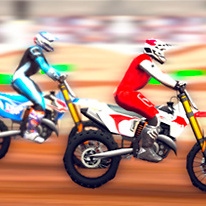 Super MX Last Season
21,773 Plays
How to play Super MX Last Season?
Enjoy a fun and exciting motorcycle racing simulation game with Super MX:Last Season as you challenge all your opponents to a unique experience at full speed. The game's incredible laws of physics will allow you to enjoy an immersive experience in which each race feels as if it were real.
Put the pedal to the metal and control your speed through the corners to avoid going off the track, test your patience and enjoy your favourite sport in an incredible 3D environment. Good luck!