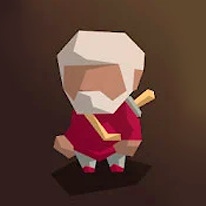 Relics of the Fallen
5,001 Plays
Relics of the Fallen details
Prepare to enjoy a dark card game and battles in gloomy dungeons with Relics of the Fallen! Explore dark and sinister spaces filled with monsters as you choose the right cards to face them and collect valuable items and piles of relics.
Get your courage up and travel with 3 different heroes to a strange place full of dangers. Are you ready for the fun? Make difficult decisions to save your life and yours and enjoy this simple but addictive game.
What features stand out in Relics of the Fallen?
Choose from 3 amazing heroes with special abilities.
Enjoy up to 5 different game modes.
A total of 50 different cards will allow you to live this exciting adventure to the fullest.
You will have the opportunity to collect up to 40 relics.