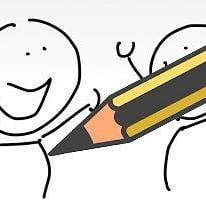 ✏️ Pinturillo 2 🎨
-
8,539,721 Plays
How to play ✏️ Pinturillo 2?
Show off your artistic skills and quick thinking with one of the most popular games of 2018. Pinturillo has a huge number of fans, more than 2 million players per month, only you are missing! Enjoy one
of the top games in Miniplay. Enjoy painting and guessing with Pinturillo 2 🎨 Version of the classic Pictionary ✏️ !
Players must guess the secret word based on the drawings that the painter makes. Each turn the word will be different and you will have a limited time to guess. The points obtained will depend on the time it takes you to guess.

How do I start playing Paintbrush?
Very simple, you don't need to register to play, just put your nick as a guest, choose the desired language and you will be sent to a random room full of players eager to draw and guess.
In total there are about 60 rooms and these consist of about 8 or 12 players at most, where the turns vary so that everyone can draw, which is the most fun.
Pinturillo's chat is quite famous among users, they are both inside and outside the rooms so you can communicate with your friends and create your own games.

Features:
- Play with players from all over the world in real time
- Free drawing, draw as you know someone will guess :)
- Five languages: English, Spanish, French, Italian and Portuguese
- More than 5000 words
- Automatic and equal hint system for all players
- Foul button to penalize other players by voting system
Who created Pinturillo 2?
Pinturillo was conceived and developed by Chachiware.