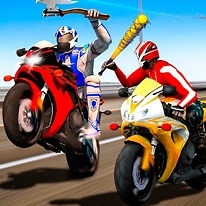 Moto Bike Attack Race Master 3D
41,429 Plays
How to play Moto Bike Attack Race Master 3D?
Are you ready to experience an exciting, high-speed motorcycle race full of excitement? Protect your head from accidents with a good helmet, press the accelerator of your bike to the bottom and ride through an incredible circuit full of obstacles, coins and power ups to grab to facilitate your mission. Avoid being hit hard by your opponents to get you out of the race and give them a good whack to unsettle their bike and bring them down.
Ride your bike with ease, overtake your opponents one by one and manage to cross the finish line in first position! Are you ready to get the ultimate victory? Collect weapons and explosives of all kinds along the way, go over the throttles and enjoy the wind on your skin!