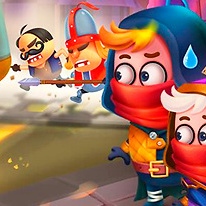 Escape Plan: Egyptian Castle
1,995 Plays
How to play Escape Plan: Egyptian Castle?
Take on the role of a brave warrior explorer in Escape Plan: Egyptian Castle and get ready for a thrilling and mysterious adventure through the corridors of a sinister and dark castle. Hundreds of dangers await you around the corner and only by showing your wits can you survive to the end and take the valuable treasure hidden within its walls!
Find out the easiest way to face your enemies without endangering your life, avoid falling into sharp deadly traps and try not to die at the hands of dangerous monsters by making wise decisions that will lead you to the exit door. Logically connect the rooms of the castle and follow a path free of traps if you want to win the final victory. Immerse yourself in this unique adventure and enjoy the fun and detailed graphics!