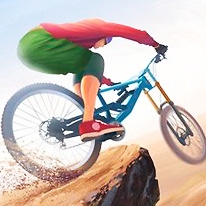 Cycle Extreme
31,806 Plays
How to play Cycle Extreme?
Are you a lover of risk and bikes? Then Cycle Extreme is made for you! Take part in a unique challenge full of emotions where you will have to descend at full speed down the side of a steep mountain while performing incredible jumps on the edge of cliffs and dangerous precipices.
Test your vertigo, and enjoy your favorite sport as you tackle a total of 20 thrilling levels as fast as you can to earn 3 stars. Avoid crashing due to a bad move and always try to land on your feet or you'll lose your chance to be at the top of the leaderboard. Don't lose hope after numerous falls, be patient and prove that you're the best cyclist ever.

Minitorneos, chat & make friends
🕹️ Which games are similar to Cycle Extreme?
❤️ Which are the latest Sport Games similar to Cycle Extreme?
🔥 Which are the most played games like Cycle Extreme?