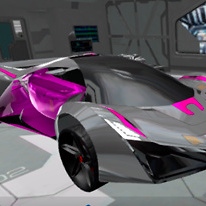 Cyber Cars Punk Racing
14,615 Plays
How to play Cyber Cars Punk Racing?
Cyber Cars Punk Racing is a futuristic 3D car driving game in which you must drive through every corner of a neon city at full speed! You will have the opportunity to test up to 16 different car models, 60 tracks and 2 players.
Immerse yourself in a unique environment with excellent 3D graphics as you test your incredible skills in the different game modes; racing, time trial, acrobatics or parkour, and get up to 160 stars that will allow you to unlock tons of improvements. Put the pedal to the metal and find a way to take first place in each of your matches - the last car standing will win the game! Good luck...
What qualities does Cyber Cars Punk Racing offer?
Enjoy amazing futuristic graphics.
Enjoy a unique experience on 60 different tracks.
Drive a total of 16 different car models.
Test your driving skills.
Earn up to 160 stars to unlock upgrades.
Become the last participant standing to claim victory.